I usually dive with a Canon G9 in a Canon factory underwater housing. It's a great all-around underwater setup with one primary limitation: you can't get wide. The G9 has a max width of 35mm and the factory housing doesn't have the ability to modify that via an external adapter. Normally 35mm wide is just fine for the 15ft visibility we have up here in Boston – you can't see much anyway! But for our FLL trip I wanted to bring in some heavier artillery and see what kind of damage I could do.
Off Erik I bummed his Canon 5D. I then hit up the family pro for an underwater dome housing and slapped a fat Canon 14mm type-L lens on the 5D. Nice. Locked and loaded.
Note – just pictures here. For a writeup of the trip go read Erik's post.
I love the overhead light on these compartments in the Sea Emperor. They blow out like flourescent bars. The giant concrete cylinders made for great foregrounds to anchor the bottom of the wide lens.

I really like the look Brandon @ DownTooLong gets from some of his shots in greyscale. I gave it a try here by choosing a few of the Sea Emperor shots that were monochromatic green and swapping them to monochromatic grey in Aperture, with a few tweaks.

This ray did a drive-by so close he had to wrap his wing over the camera to get by me. Keep in mind this is a 14mm lens. If it looks 10 feet away it's 10 inches. If it looks like 6 inches, well, it's actually 10 ;-).

These are from the Hydro Atlantic. She was the only ship we dove which was not a purposeful sinking. You could tell from the sheer amount of wreckage on her decks. I like the first shot because once I tweaked it in monochrome you could just barely see our two buddies (Tom M & his partner) coming down the line.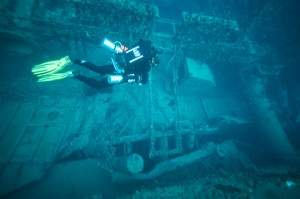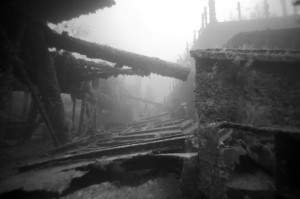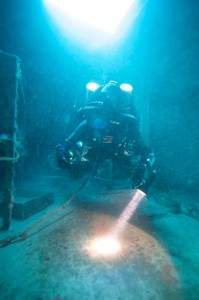 The Spiegel was wonderful. Such a nice wreck do explore. I'm a real buoyancy fanatic (snob?) and it was a fun exercise to meander slowly through and up and down four decks all without touching down into the silt. This is me (photo by Erik) on the right; Erik in the photos below did quite well maneuvering with his video cam while still holding buoyancy.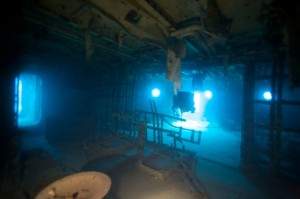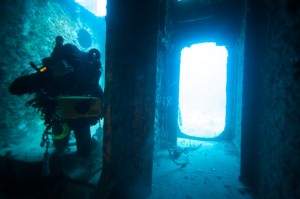 On our second Spiegel dive we did a nice outside tour. I have a thing for propellers and we checked out the portside prop, but I didn't quite get the shot I wanted. On the way back out I framed a couple long-distance shots, one of the crane and one of Spiegel's bow beneath us (with Tom M. and his dive buddy visible returning to the line). The 50+ ft viz made distance shots nicely possible.